CFC/NCSC Member Website Account Migration FAQ
In an effort to enhance the security of the CFC and NCSC member websites, CFC's Business Technology Services will soon be releasing a significant upgrade to the systems used to log into the sites. These changes will require members to perform a one-time verification of their login profile information and to make any updates.

What's changing?
Starting in March, members may notice a new login screen. This is part of changes to the Member Website to improve security. Members will receive an e-mail when it's time for them to migrate their accounts. Existing members who have not yet completed the migration can still use their current website username to log in. All migrated members will be required to use an email address as their username.

Members will be allowed to access only a single organization per email address. Those wishing to access additional co-ops will need to use a unique email for each one. However, members will still be able to access CFC and NCSC content with the same login for CFC/NCSC accounts.
All website users will be required to set up multifactor authentication and a security question (instructions will be provided during the initial new account login).
Reports and applications that were previously located under the Extranet will now be available within the Member Website–Account Portfolio section or the Document Center.
How do I migrate my account?
Website users will receive an email with instructions when it is time to migrate their account. Users within the same co-op may be asked to migrate at different times. Following delivery of the email notification, the next time the user logs into the CFC Member Website, they will be taken to a form to complete the migration process by verifying their account information and creating a new password.
Next, the user will need to set up a multifactor authentication method. Two options are available:

SMS – a user can opt to provide a mobile phone number and receive a verification code via text.
Authenticator App -  Users can download the Okta Verify app on their smartphone to generate push notifications or single-use codes to log in.
To set up an authenticator app:
Smartphone users can download the app from their smartphone app store.
Open the app then click the + sign to add a new site.
On a computer, select the option to configure an authenticator app.
A QR code will appear.
Use the smartphone's camera to scan the QR code. (Accept a prompt to allow the app to access the phone's camera.)
Enter the number that appears on the phone in the field provided on the website.
What about users who need to access multiple organizations?

Users needing to access account information for multiple co-ops will need to register a unique email address in order to access each co-op's information securely.
If users need the ability to conduct secure online transactions, an RSA token will be issued for each account and will need to be labeled accordingly. Please contact the Member Center at 800-424-2955 to request additional RSA tokens for each account.
What website features are affected?
In total, roughly 30 applications are affected. However, most of these changes will be transparent to website users. Key changes are listed below: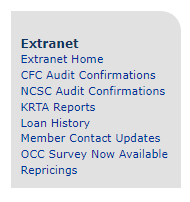 Audit Confirmations
Previously, CFC and NCSC Audit Confirmations were accessible from the Extranet box, as illustrated on the right. After account migration, they will be in the Member Document Center under Statements. For NCSC associates, the Audit Confirmations will be in the new NCSC Document Center, also under Statements.
KRTA
Previously, KRTA files were accessible from the Extranet box. After account migration, KRTA files will be on a new KRTA page under the Financial Analysis tab. Document Center access will require fewer clicks to access the reports.
After migration, fewer historical data reports may be available. However, members may submit a request form to have additional historical data reports added to their Document Center.
Compass Loan and Equity
Previously, Compass and Loan Equity files were accessible under the Financial Models section. After account migration, these files will be accessible in the Document Center in the Financial Models folder.
Loan History
Previously, Loan History reports were accessible from the Extranet box. After account migration, Loan History will be available directly from the Account Portfolio tab/page.
Member and Contact Updates
Previously, member and contact updates were accessible from the Extranet box. After account migration, they will be available directly from the Portfolio Management section under the Account Portfolio tab.
Patronage Capital
Previously, Patronage Capital history and certificate files were accessible from the Portfolio Management section. After account migration, these files will be accessible in the Document Center in the Statements, Patronage Capital folder.